HAPPY HOLIDAYS!!!!!!!

Wood Street Christmas Trees is entering our third cut your own tree selling season as we approach Christmas 2015. We have a wonderful inventory this season and expect to open early in the season and stay open up until very close to Christmas. Our beautiful 12 acre farm will truly make your tree selection experience a magical one. Our Douglas fir hold the needles as well as any variety you can find so don't be afraid to come and cut one early and enjoy it for the whole holiday season. Remember: you can"t get any fresher than just cut.
Web site last updated 12/14/2015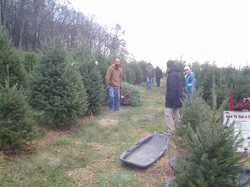 WE ARE OPEN TO CUT YOUR OWN TREE 12/18-19 AND 20 2015

Friday Dec. 18th 10 am to 4 pm
Sat. Dec 19th 9 am to 4pm
Sun. Dec. 20th 9am to 3pm


We have plenty of beautiful trees to 8 ft for you to cut fresh!!



If none of the above hours work and you still want to try our farm call 978-609-4366
or 978-270- 9365 and we will try to arrange a time you can come.


---